Elements: 15 Brass Everyday Carry Items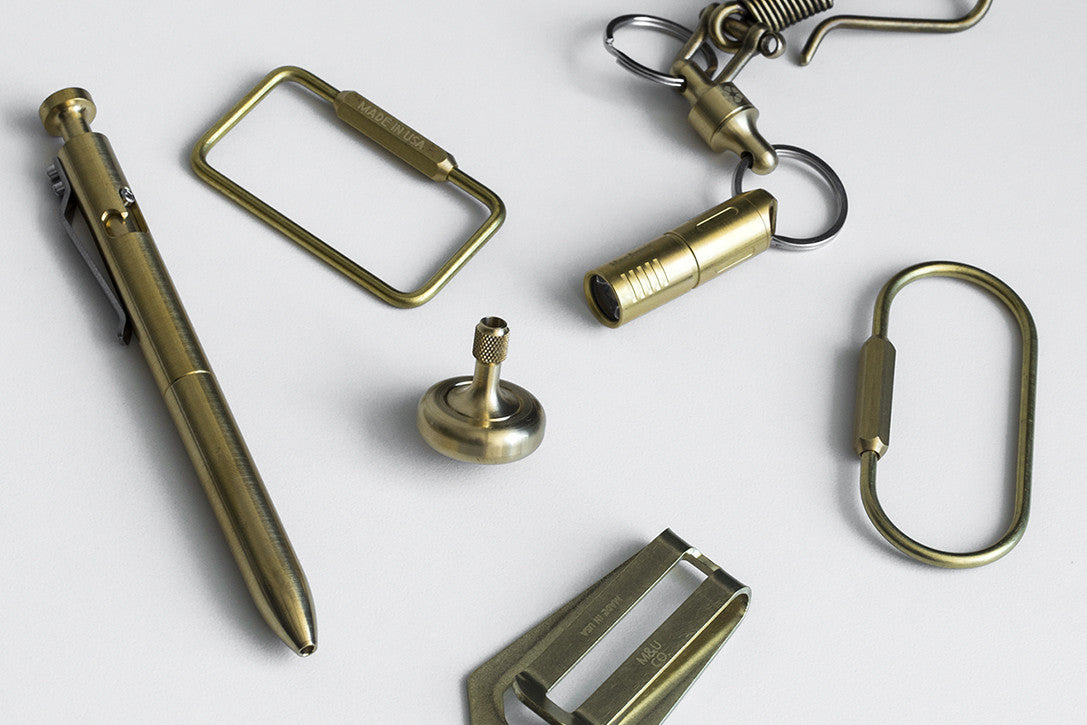 When picking out your everyday carry items, there are dozens of different decisions to be made. From the number and variety of items to their sturdiness and appearance, each choice requires at least a measure of careful contemplation. One rather important consideration is construction. There's a whole arsenal of possible materials out of which a tool can be made and - of course - positives and negatives to each option. In this feature, we will focus on a material that dates back as far as the neolithic era: brass.
Most classically associated with military might and orchestral instruments, brass is one of the oldest workable metals known to mankind - prehistoric examples of artifacts have been found around Anatolia in Southwest Asia - and is still widely used today. Made from a combination of copper and zinc, this metal alloy made its way across the ancient world in a variety of forms, from Roman pitchers to medieval church memorials to African sculpture. And some of the big reasons that brass stayed in use, even through the dark ages, are the same reasons you should consider it for some of your EDC items today.
Tough and Tender
One of the primary applications of brass was and continues to be ornamentation. Simply put: brass resembles gold. But it isn't nearly as rare and that makes it both less costly and more practical. While still bearing a similar luster, the copper-zinc hybrid is a more hardy metal than its super soft counterpart, so it can take greater punishment without suffering damage the way that gold does. Yes, it isn't going to be as strong as titanium, but it also stands out a lot more.
And it is very easy to work with. Instruments like the tuba, saxophone, trumpet, french horn, etc. are all constructed of brass because of how malleable the metal is. Brass is easily shaped into complex forms in a metalworker's shop, but also retains those forms well through heavy use in the outside world. Brass is also one of the most corrosion-resistant metals out there and - because of the lack of iron - doesn't rust. It is also not a very conductive material, so there's a much lower risk of being on the receiving end of static shocks. The metal's unique position between workability and durability makes for some very interesting potentials.
Patina
Another unique characteristic of brass is the way in which is ages. Over time, a process called oxidation - which is a chemical reaction between the metal and oxygen - occurs, leaving the item with an aged antique brown or green look. Without care, all brass will eventually tarnish this way and can make for a very singular appearance. But it is not an inevitability. If you like the golden facade of your brass items and you don't want it to diminish, simple polishing can keep those items as brilliant as the day you bought them. The following is a selection of some of the best brass EDC items on the market today.
Top Brass
Gearward Keychain Duct Tape
Duct tape is one of the most versatile tools out there for on-the-spot patches and/or repairs. Always keep some on-hand with this keychain addition by Gearward.
Fisher Space Pen Bullet
Both compact and beautifully styled, this small easy-to-carry Fisher Bullet opens into a full-sized perfectly balanced pen. And it still functions in nearly any conditions - including upside down, underwater, or in zero gravity.
Zippo Classic Lighter
Probably the most iconic lighter ever made, this version of the legendary Zippo comes with a "solid brass" stamp on the lid and promises only to look better with age.
Prometheus Lights Kappa Quick Release
This attachment is a simple and fast way to detach any necessary items from the rest of your keychain. And, when not in use, it is plenty secure thanks to its custom-made canted coil spring.

Mini Stash Cash-Can
With this small, secure, durable, waterproof, and stylish keychain addition, you can be sure to always have some cash on hand - even if you've forgotten your wallet at home.
Craighill Closed Helix Keyring
Much more sturdy and unique than your typical keyring, the Closed Helix Keyring by Craighill can hold all your normal keychain-mounted gear and have room to spare. And the screw-on cap will ensure that none of your stuff will come detached unnecessarily.
Maxx & Unicorn Money Clip
Whether you're looking for a stylish way to carry your cash for a night out or you just want a super-minimalist way to carry your credit cards everyday, this sturdy money clip will get the job done.
Mec Army Illuminex-3
This tiny torch is the world's smallest USB rechargeable flashlight and can be fully charged in only an hour. And it's 130 lumen ceiling makes this little tool almost a no-brainer for anyone looking for high value EDC with a minimal footprint.
Toothpick Case
Perfect for stashing some extra cash, medication, or even toothpicks, this small, screw-top, waterproof case is tough, highly portable, and very handy.
Machine Era Wallet
This minimalist wallet is both simple and functional, can hold 2-6 cards and some cash, features a slim profile, and is super durable. For a wallet that offers both style and substance without stuffing your pockets, there's not much better than this.
Scout Hook Keychain Bottle Opener
Rather than letting them clump at the bottom of your pocket, float your keys at the top of your pocket with the simple, handy, and easy-to-use Scout Hook. And then celebrate your purchase by using it to crack open your favorite beer.
Beta-QRV2 Flashlight
This flashlight packs an impressive amount of features into a very small package - including a range of 1-85 lumens in three brightness settings and each one comes with a quick-release keychain attachment for ease-of-use.
Karas Kustoms Retrakt Pen
A clickable ballpoint pen with a long lifespan and great durability is hard to come by, mostly because the clickers are all-too-often made cheaply. Not the case with the Retrakt. This pen features an all-metal construction that will last for years to come.
Hex Bit Driver With Bits
Much smaller than the other options on the market, this Scout Leather Co. Hex Bit Driver an impressively multi-functional driver tool that comes in a minuscule package. And the ball-bearing base makes quick work of both screwing and unscrewing.
Lambda Top
Not only is the Lambda a unique take on a classic toy, but it is one of the most precise tops ever made. And this impressive device - with run-times of up to 10 minutes - is the first ruby-tipped version ever made.
© Photography by Gallantry