Elements: 12 Copper Everyday Carry Items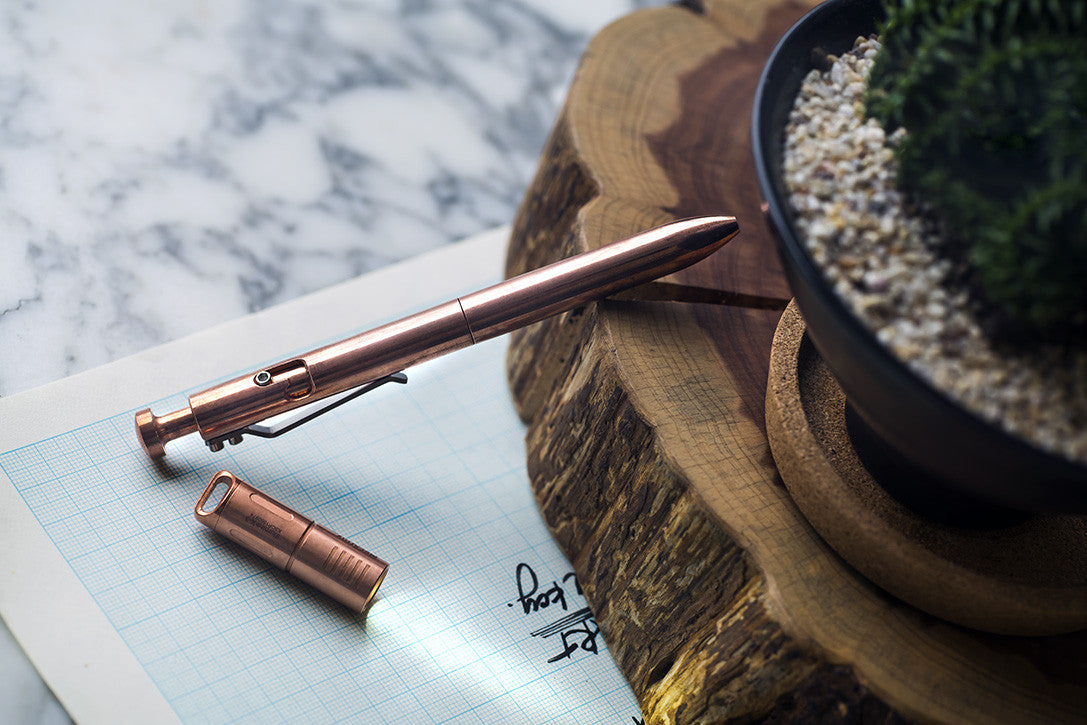 If you've entered the fray that is the world of everyday carry, you know there can be a daunting number and variety of item types, designs, manufacturers, and so on. And it isn't easy to gauge everything at a first glance. Sometimes, choosing your gear requires a little more information, especially in regards to the materials out of which that gear is constructed. There are, of course, plusses and minuses to every substance and the best way to make an informed decision is to learn about them. In this feature, we will focus on a material that is estimated to have been used as long ago as 9000 BCE: copper.
An antecedent to and necessary element in the creation of bronze and brass, copper - Cu on the periodic table - is a metal predated only by gold and meteoric iron in regards to human usage. And it's the only metallic element, other than gold, to have a unique natural appearance. It became historically significant for a number of ancient civilizations as a building material and currency - for example, the Egyptians used a hooped crucifix (or ankh) as the hieroglyphic symbol for copper. And it's even a necessary component to human, animal, and plant dietary health - its found naturally in some foods and studies show that copper can kill up to 99.9% of many bacteria. You can also gather, from copper's continued usage throughout human history up through the present, that it's a worthwhile and unique substance to incorporate into your everyday carry, as well.
Worth Every Penny
There's a rumor that's been floating around for years that says copper is worth more than the unit of American currency in which it can be found. And, to an extent, it's true. Pennies dated up to 1892 were made up of approximately 95% copper and are valued at roughly double a normal penny. But that's not where copper derives its value for us and the rest of the EDC community. As a building material, Cu stands out for its color and versatility as a building material.
Bronze and brass - a combination of copper & tin or copper & zinc, respectively - are both durable and useful materials, but copper also stands alone quite well. All told, there are over 570 different copper alloys listed with the American Society for Testing and Materials International. Found in everything from lighters to pens and even alloyed into knives, copper is exceedingly corrosion resistant and, in fact, does not rust. What is does do is age gracefully.
Give Me Liberty
If you're ever curious as to how oxygen affects the look of copper, take a gander at the Statue of Liberty in New York. On October 28th, 1886 Lady Liberty was dedicated. Back then, however, the gift from the people of France bore the shine and luster of a brand new penny. Now, the statue's green facade shows the signature patina of aged copper. This process - called oxidation - is an inevitable result for all things copper-heavy, unless regular polishing and care occurs. For some people, this aging gives their objects character. For others, who prefer the shine, regular cleaning is fairly easy. The following is a selection of the best copper EDC gear on the market today.
Mint Condition

Danner Corter Leather Bottlehook
As you might gather from its name, this Bottlehook from legendary bootmaker, Danner, is a multi-functional keychain accessory which can both hook onto your pocket or belt loop - for easy access to your keys - or it can be used to crack open a refreshing beverage. And they're so confident in this USA-made device's quality of construction that they've tacked on a lifetime warranty against breakage to each and every one. It even comes with a leather tag upon which you can put your contact information, should you lose track of it.
MecArmy Illuminex-3
Just because a flashlight might seem like an entirely utilitarian object, that doesn't mean it can't also look superb. This flashlight, from MecArmy, manages to be impressive both in its visage, as well as its functionality. Weighing in at less than 20g and with a silhouette smaller than a tube of chapstick, this light has an impressive 130 lumen maximum, two brightness settings, and is the world's smallest USB rechargeable flashlight. And it can reach a full charge in just about an hour.

Toothpick Case
Whether you like keeping on you a way to spot-clean your teeth, a little emergency cash, or just some ibuprofen to fend off an impending caffeine headache, you can always have it on hand if you've got this little case from Sunshine Products USA. And, like the brand name suggests, this tiny waterproof container is manufactured right here in the United States of America. Get one and never worry about being caught with food in your teeth again.

FourSevens Preon P1
An impressive pocket-sized everyday carry flashlight that has a 5-100 lumen range, the Preon P1 runs on a single AAA size battery - which would be an impressive feat on its own. But it also has five endlessly reconfigurable modes: normal, SOS, high beacon, low beacon, strobe, making this device a true stand-out. And it can run for up to 20 hours on just the one battery.

Prometheus Lights Beta-QRV2
Perhaps the handiest feature of the Beta-QRV2 is that each of them comes equipped with a quick-release keychain attachment. So, while it will stay securely on your person while you aren't using it, you can easily operate it without having to bring your jingling keys along for the ride. Pair that with the fact that this flashlight will run on either a single lithium or NiMH AAA type battery, has a 1-85 lumen range, and a potential runtime of up to 55 hours, this little tool is worth far more than its weight.

Bond-Vox Halo
Looking more like something out of a science fiction story than the product of knife makers and designers Mike Bond and Jesper Vox, this solid metal carabiner is a multi-functional wonder. Built into its design, this keyring holder does quadruple duty as a cutting/scoring tool, bit driver, and bottle opener. And, between its silhouette and multi-surface jimping (the small ridges which provide extra grip), this is one of the most unique EDC devices available.

Copper Keybar
As a means to keep your keys both organized and jingle-free, the keybar is an excellent tool. This uniquely designed keyring replacement fits most keys (not the oversized or strange novelty varieties) and can hold up to 12 with the screws provided. It also comes with an o-ring that lets you adjust your preferred tension and a key fob link, in case you drive a car that uses one.

Karas Kustoms Retrakt
Every professional, whether they work in an office or a garage, should carry a pen. It is a sign of preparation and class. While you could easily drop several hundred on a decent pen, wouldn't you rather have something much sturdier that stands out in a sea of Mont Blancs? This USA-made pen is constructed from tellurium copper, the clicker is all-metal, and it is compatible with both G2 and Parker ballpoint sized refills.

SOG Trident
With its desert-pixel handle design and extremely distinct copper-hued blade, this knife stands out on looks alone. But looks isn't all it has - this knife features SOG's proven assisted opening technology, their patent-pending Arc-Actuator locking mechanism, a built-in safety lock, and an AUS-8 steel semi-serrated clip-point 3.75" blade. It is clear that this knife sits squarely at the crossroads of superb function and excellent styling.

Karas Kustoms Bolt
Handcrafted in the USA from tellurium copper, this pen's design takes a unique spin on a classic 'clicker', incorporating a bolt-action lever to deploy the ballpoint tip. And Karas Kustoms has taken great care to be sure that this pen will last you for years to come, as the high quality of construction intersects with the fact that it is compatible with any Parker ballpoint compatible refill - including the Fisher Space Pen pressurized cartridge. If you want a superb pen that's sure to impress, this is the one for you.

Wolfework The CC
Made from premium Turkish leather and hand-stitched in the Red Hook neighborhood of Brooklyn, New York, this sturdy credit-card holder incorporates a stand-out polished copper money clip into its design. Small enough to fit in your back or front pockets, this wallet ensures that you can carry all of your normal cards and cash in both safety and style.

Jacob Bromwell Great American Flask
True to the original 1819 design, this flask is as American as apple pie - or, perhaps more accurately, Bourbon. Made in the United States out of solid pure copper, these flasks are constructed using a lead-free soldering technique, hold up to 9 ounces of liquid - which are kept inside thanks to either the 100% leakproof cork or American birch wood included stoppers - and is backed by the brand's lifetime guarantee. Just make sure you wash it by hand after you've emptied it.
© Photography by Gallantry