Groom-On-The-Go: 10 Best Dopp Kits For Men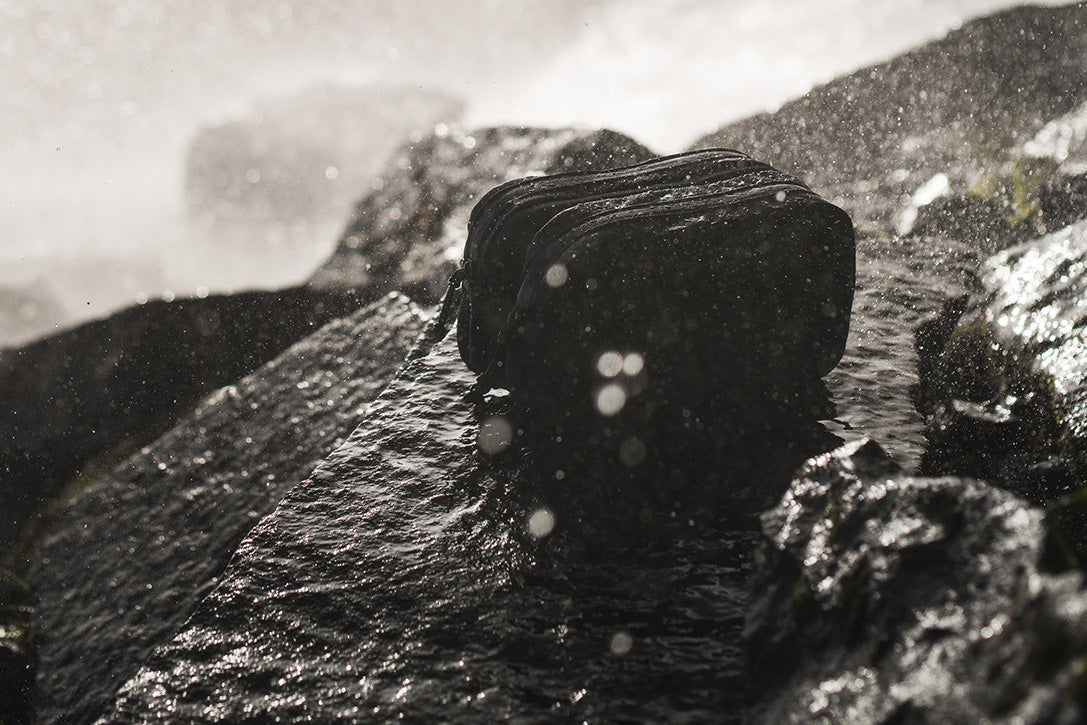 Though our lives are pretty busy, we still like to take the time to travel as much as possible. There's just too many great things out there to see and experience in the world to stay stagnant all the time. That being said, long-form travel - whether it be by foot, car, train, plane, or otherwise - comes with a unique set of challenges.
Staying on top of our normal grooming habits is one such challenge. The fact is, it can be rather difficult to keep all your gear organized and in order in normal day-to-day life, so being on the road is all the more trying. Luckily, there's one thing you can bring with you that will make your life much easier: a dopp kit. These dedicated hygiene and grooming gear bags are specially designed to house everything from your toothbrush, to your comb, to your shaving kit and keep it all safe whether you're hopping a train or flying over the ocean. Though, some are decidedly better equipped than others. If you're the type of man who doesn't like to settle for runners-up, even when it comes to dopp kits, then you've found the right place, because these are the ten best dopp kits for men.
MIS Mesh Toiletry Bag
Made in the USA in a factory designed to build mil-spec gear, this durable dopp kit is crafted from 1000D Dupont Cordura nylon and finished with a water-resistant urethane coating. That means your toiletries inside will stay safe and dry if your pack gets a bit wet and, should anything inside burst, it won't leak all over your clothes. It also features a self-repairing YKK nylon coil zipper closure, features a vented mesh panel on one side, and has a carry handle on both ends to allow for easy pack removal and carrying.
Aer Dopp Kit
For those who are unfamiliar, Aer designs some of the best bags in the world - both from a style and functionality standpoint. So, it's no surprise that their foray into the world of dopp kits would be equally as formidable. Available in your choice of either gray or black, this toiletry travel pack has an exterior made out of 1680D ballistic nylon with access to the main compartment or to a smaller exterior quick-access pocket via reliable YKK zippers. It also comes equipped with dual organizational pockets in the interior, elastic organizers for easy compartmental storage, a water-resistant liner, and an exterior toothbrush pocket/stand to keep your precious brush off the counter, ground, or whatever surface you find yourself using.
Colfax SDK_01 Dopp Kit
Made in the USA and modeled after traditional dopp kits, this offering from Colfax Design Works improves upon the classic toiletry bag in a number of ways. For starters, it is built from a space-age 1000D Cordura fabric mated to a tear-resistant X-ply layer and backed with a laminated PET waterproof membrane - which keeps the stuff inside and outside the bag completely safe and separate. It also features weather-resistant YKK zippers, mil-spec hardware, and a MOLLE style webbing system, so you can attach it to the outside of your tactical pack if need be. If your travels often take you off the beaten path, this might be the dopp kit for you.
United By Blue Travel Case
A brand that removes a pound of trash from Earth's waterways for every item sold, United By Blue can be trusted to make sustainable, quality good that are made to last. And that certainly extends to their dopp kit. Called the Travel Case, this 5-liter bag is made from 100% organic waxed cotton - meaning it is water-repellant and stain-resistant - and is equipped a high-grain vegetable-tanned leather carry handle, as well as accents around the exterior. It also features solid brass YKK zippers on both exterior pockets and an easy-to-clean polyester interior lining. If you want to dress up your luggage with some timeless style, pick this one up.
Defy Waxed Canvas Dopp Kit
Wanting to simplify your carry and refusing to settle for anything less than the highest-quality are not mutually exclusive concepts. In fact, you can see them working together in Defy's Waxed Canvas Dopp Kit. This simple, single-compartment has a 4-liter capacity - more than enough room for the average traveler - and is made from some rather tough material, including Martexin Original Waxed Canvas for the exterior, a Horween leather hand-cut carry handle, a YKK antique brass zipper, and a military-grade parachute liner. Yes, the liner is actually made out of the same material as military parachutes.
Defy M35 Tarp Dopp Kit
Like their waxed canvas offering, the M35 tarp version of Defy's dopp kit is incredibly tough, while still remaining uncomplicated. And while it still features the durable antique brass YKK zipper closure, Horween leather 1-inch carry loop, and actual army parachute material lining on the interior - this one has the benefit of being made out of a rather special material: M35 military truck tarpaulin. Yes, the very same canvas that goes around transport trucks used by the United States military to move troops from point A to point B is what this dopp kit is made from. It's hard to get any better than that.
Bradley Mountain Dopp Kit
Though they are headquartered in San Diego, California, Bradley Mountain's gear is used around the world in a wide variety of conditions. And that's because the stuff they make is tough enough to weather just about anything and still looks good while doing it. Their dopp kit is no exception. Made in the USA from high-quality water-resistant heavy waxed canvas, this travel-friendly toiletry kit features a heavy-duty antiqued brass zipper closure paired with high-grain oiled leather carry straps and enough internal space for all your grooming essentials. If you want to infuse your with some traditionally-styled carry gear, you can't look past Bradley Mountain's offering.
Heimplanet Monolith Dopp Kit
If you've ever seen any of Heimplanet's inflatable-frame tents, you know that this brand isn't afraid of innovation. And that extends to their other products, as well - like the Monolith Dopp Kit. Designed to work just as well standing as it does hanging, this interestingly laid-out toiletry bag features a complement of compartments and pockets to keep all your gear ultra-organized. It's also crafted from 840D ballistic nylon, of which some is also TPU laminated for waterproofing and extra durability. It's also equipped with a removable internal mirror (for when you're grooming on-the-go without access to a bathroom) and has a custom HPT G-hook with an adjustable strap for secure closure when not in use and easy-hanging, should you not have a countertop of which to make use.
Alchemy Equipment AEL015 Dopp Kit
If you're a fan of Alchemy Equipment's minimalist pack designs, you'll be happy to know that their AEL015 Dopp Kit was designed to fit perfectly inside of their Carry On backpack, making it the perfect toiletry kit for what is certainly one of the best travel bags on the market. The exterior is sewn from a 900D black waxed Kodra fabric with a 3-times PU-coated base for waterproofing and a steady foundation on which to stand the bag. It also features a wide-mouth doctor's bag-style opening for easy access to all internal contents, an embossed easy-care lining, and a waterproof mesh internal zippered pocket for organizational storage. And this 9 oz bag can be carried via the attached low-profile carry handle. This is truly a unique dopp kit with some excellent features.
Filson Travel Kit
An American heritage brand with over 120 years of experience crafting some of the most high-quality outdoor goods on the planet, Filson certainly brought some expertise to the table when crafting their Travel Kit. Made in the USA, this water-repellant dopp kit features a rugged twill exterior mated to a bridle leather carry strap and pull tab, as well as a rustproof brass zippered closure and dual external pockets. Inside the large main compartment, you'll find another pair of organizational pockets and an easy-to-clean matte nylon lining. best of all, this packable dopp kit can be easily slipped into even the most crowded of luggage without fear of harming it or the gear inside.