Best Everyday Carry Key Organizers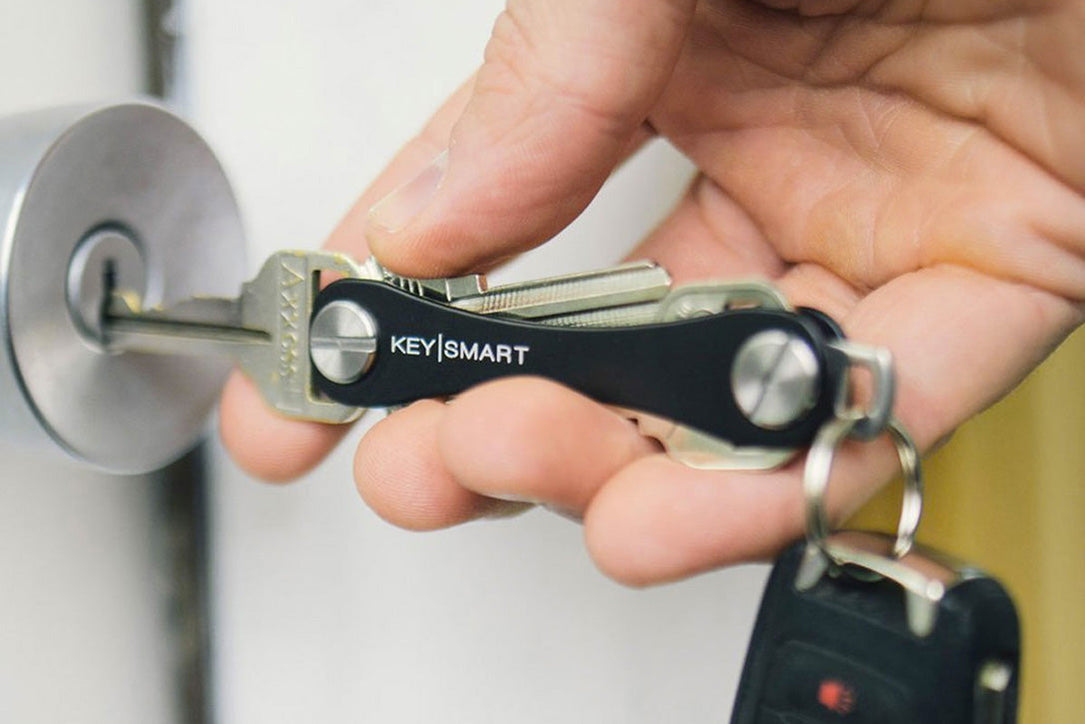 There was a time when the only option for carrying around one's keys was a traditional keyring. Like high school janitors, we roamed around alerting all those around of our presence with that ever-present jingling. And our pockets bulged, the familiar metal-toothed outline of keys as clear as the fabric of our pants.
But that time has come and gone, at least for those clever enough to have made their way into the world of everyday carry. Thanks to the ingenuity of EDC designers, craftsmen, and creators, there are now a bevy of options to keep your keys and keychain accessories organized, out of the way, and - perhaps most thankfully - jingle- and clump-free. As always, however, there are some that soar above the competition in their construction, capacity, and overall quality. And that's what we've got for your here: the best everyday carry key organizers.
Bellroy Key Cover
Masters of wallet-making, Bellroy has now shifted their focus to the classic EDC accessory, the key organizer. And, as they always manage to do, they've put their own unique spin on it - creating one that meshes their clean aesthetic with superb functionality. Their Key Cover is built from premium environmentally-certified leather, it features a super slim bifold construction with a magnetic closure, and it has a capacity of up to 4 keys. It also comes with a leather key fob loop, measures up at just 3.11 by 1.65 inches, and is as shockingly space-saving as it is a handsome addition to anyone's everyday carry.
Keybar Key Organizer
Keybar was one of, if not the first notable key organizer to hit the everyday carry market. And, sure enough, it's still one of the best out there. This brand also has the benefit of offering up more materials in their product's construction than just about anyone else out there. So, whether you want carbon fiber, titanium, anodized aluminum in a dozen different colors, a CNC milled pattern, laser engraving, and more - well, you can get one from Keybar. Their offerings also come with a capacity to carry up to 12 keys out of the box, can be expanded up to 28 keys, fit about 90% of the different key sizes out there, come with a key fob loop, and are made right here in the USA. Not bad at all.
Keysmart Key Holder
If you like your key organizers tough, but still a little more on the refined side of the spectrum, then you might be in the market for something from Keysmart. These slick little pocket organizers are made from your choice of anodized aluminum or titanium, can fit up to 14 keys of any length between 55-80 millimeters, they each come with a loop for attaching a key fob, and are made by hand in Chicago, right here in the USA. What's even better is that the unique S-shaped design hides you keys' teeth, which will prevent them from snagging the fabric in your pockets and can actually serve to give your wardrobe a bit more longevity. And that's definitely worth something.
Orbitkey 2.0
In regards to EDC key organizers, there are perhaps none that look quite as slick and stylish as the ones made by Orbitkey. Their offerings aren't quite as capacious as the other ones on our list - they can hold between 2-7 keys at a time - but they do benefit from having what is perhaps the slimmest profile of any other key organizer out there today. They also each feature an integrated locking system, a D-ring key fob attachment (which is removable if you don't need it), compatibility with the brand's other attachments - such as their key organizer multi-tool - and they're plenty durable enough to survive through daily life. They're also offered in a number of different materials, including water-resistant canvas, premium leather, and a dust-resistant TPU polymer.
Quiet Carry Q 2.0 KNIFE + KEY ORGANIZER
Specializing primarily in bladed EDC tools (they have a whole catalogue of excellent folding pocket knives), Quiet Carry has also delved into key organizers with their Q 2.0. And, wouldn't you know it, this clever device doesn't just hold keys - it also comes with a folding AUS8 steel 2.3-inch blade. Even better than that, the blade features a bottle opener cutout and collapses into a titanium handle with a sturdy lock back to ensure that it doesn't move around when in use. This handy pocket accessory also has a 1-4 key capacity (which can be expanded up to 8 keys with additional hardware), comes with a removable key fob ring attachment, and weighs just 2.6 ounces overall. It's also compatible with the brand's multi-tool attachment, though that requires a separate purchase. If you're looking to maximize your carry without adding a whole lot to your pockets, it's tough to do better than this tiny titan.