Pocket Protector: The 8 Best EDC Knives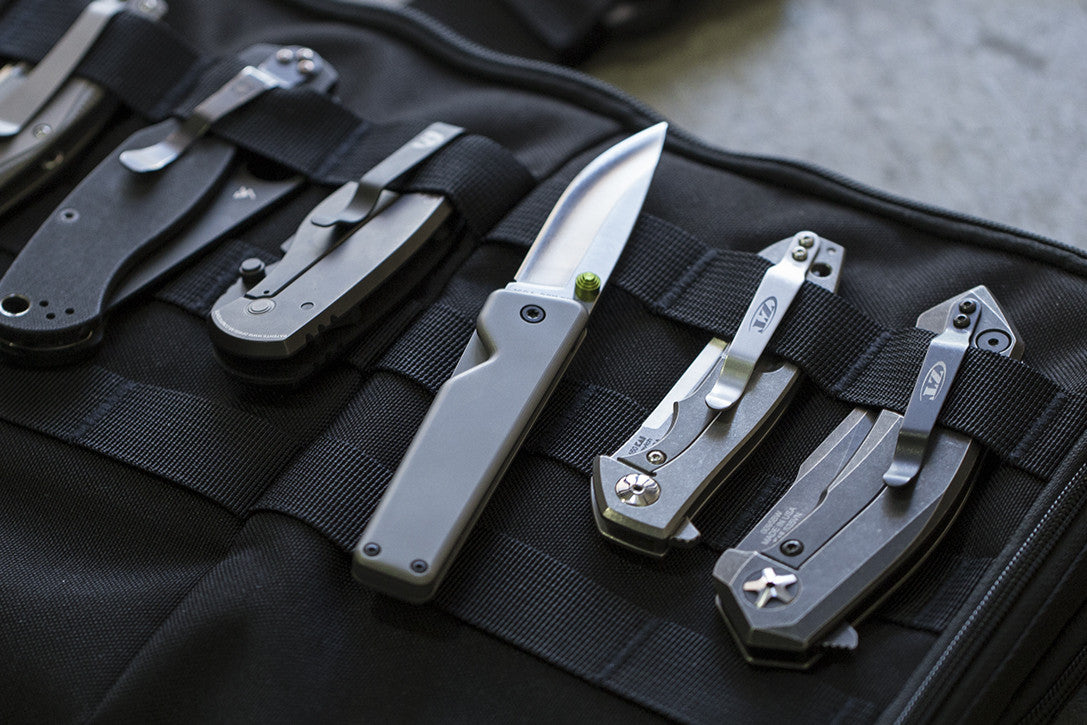 In case you're not aware of our position, we believe that everyone should carry a knife on them whenever possible and reasonable. Obviously, if you are headed to the airport or a sporting event, we suggest leaving the blade at home. But, in the day-to-day, we've found that a knife comes in handy a lot more than the average person might think. And that's because, first and foremost, they are tools - as evidenced by their history.
Sure, you might be able to get by without one most of the time. You can carry around a broadly functional multitool with an edge that alludes to a blade. You could even attempt to get by opening packages with the teeth of your car or house keys. Folding knives aren't always necessary. But, really, no tools are. The point isn't that you need one. It's that you're clever enough to realize their inherent value. And that's what separates us from the animal kingdom: ingenuity.
Instead of struggling with a lackluster oversight of a blade, like the one you might find on a 30+ function pocket tool, carry a solid knife and make your life easier. Do a little research, prioritize your needs, and learn the legality of knives in the place where you live. Then cross reference your discoveries with the following list of the best EDC knives we have to offer and pick one up. You won't regret it.

Opinel No. 8 Trekking Knife
This brand has been making quality pocket folders for generations. And since they're still family owned and operated, we mean that quite literally. This blade is one of their best for both its size, material quality, and overall value. The beechwood handle is sturdy and lightweight. Its 12C27 Sandvik stainless steel blade is durable and tough. And the Virobloc safety ring at the point where they meet, while simple, is a dependable means of keeping the blade either folded or deployed. You could easily tuck this 7.5" folder in your pocket everyday, but it also comes with a leather lanyard in case you want to tie it to your pack when you hit the trails.

Deejo 37G Knife
Proof that a minimalist design in no way means compromising functionality or style, the Deejo 37G is a work of art, to say the least. This stripped-down folding blade derives its name from its total weight (just 1.31 ounces), yet it still packs in a number of stellar features. For instance, the blade and handle are made from dependable 420 stainless steel. The handle also has a slim piece of hardwood attached - for a dash of styling - and features a liner lock to keep the blade safely deployed. And for easy carry, this gentleman's folder comes fitted with a tip-down pocket clip.

James Brand The County
For many of us, our love affair with folding blades started when we were kids. The slipjoint folders we were given by our fathers and/or grandfathers were simple, yet elegant and functional. And they sent us down the path we are on today: one of appreciation and respect for the craftsmanship behind pocket knives. The James Brand has dipped right into that respect and love to create their County Knife. A reimagining of the classic campground pocket knife, this blade is equal parts modern and classic design. The blade is made from Sandvik steel. The handle is a combination of real hardwood and 416 stainless steel. And the end product is something wonderful that reminds us of the reasons we love knives in the first place.

Zero Tolerance ZT 0450 Sinkevich
Titanium is a superb addition to a folding knife handle. It's incredibly strong, looks good, and guarantees that your blade will likely last longer than you will. And that's just one of the things that makes this offering from Zero Tolerance so formidable. In a collaboration with knife designer Dmitry Sinkevich, this deceptively small knife is a superb EDC option for anyone that likes aggressive styling in a reasonably sized package. The blade is constructed from super high quality S35VN steel and is deployed from the handle via a KVT ball bearing system. The handle also features a reversible clip and a super sturdy frame lock. And at just 4.1" when closed and weighing only 2.9 ounces, this knife takes up hardly any pocket real estate at all.

Reate Knives Hills Flipper
Although they are a young company, Chinese brand Reate has made their mark on the knife world. Their blades are aggressive, large, and - most importantly - incredibly well built. Truly, anybody who gets their hands on one should count themselves amongst a lucky few. Don't believe us? Just have a look at their Hills flipper. For a folder that costs less than two bills, this impressive and intimidating pocket knife has an astounding amount of value. The blade is made from S35VN steel, the handle is 6AL4V titanium, and  they connect at a pivot fitted with an incredibly smooth ball bearing manual deployment system. Though 8.3" is a little on the larger end of the spectrum for an EDC knife, the benefits outshine any drawback.

Zero Tolerance ZT 0095BW
Undeniably the most intimidating blade on this list - thanks to its "harpoon" style blade and curved handle - this 8.4" blackwashed offering from Zero Tolerance has the features to back it up. The S35VN steel blade has a tungsten DLC coating and the handle to which it is attached is made from titanium. It's also equipped with a KVT ball bearing deployment system, a reversible clip, and a frame lock with a hardened lock bar. Best of all, like all of the Zero Tolerance knives, this beastly flipper was made right here in the USA.

DPx Gear HEAT/F
The brainchild of Robert Young Pelton, one of the most badass dudes we've ever seen, the DPx line of knives are some of the most hardcore capable blades of all times. Truly, you could use them out on the battlefield and they'd do just fine. And that kind of sturdiness and reliability makes them superior in the world of everyday carry. The HEAT/F folder is a prime example of their overall quality. The stout 2.26" Niolox steel blade features a TiCN PVD coating - as does the pocket clip, frame lock, and tungsten carbide glass breaker on the butt. The blade also features a notch on the back which works as a bottle opener. The handle is constructed of G10. And the whole insane package weighs 4.15 ounces.

James Brand The Chapter
Not everyone needs a hardcore tactical folder, but that doesn't mean they don't want a capable high-end knife. If you fall into that category, there's an option for you - thanks to the James Brand. This very sleek gentleman's folder offers the same kind of quality of construction and attention to detail of the most intense military-inspired blades, but in a must more refined and handsome package. The drop point blade is forged from D2 steel, the handle is incredibly sturdy and lightweight titanium, and the hardware is 416 black oxide coated stainless steel. This may very well be the best gentleman's folder ever made.
© Photography by Gallantry