Elements: 15 Titanium Everyday Carry Items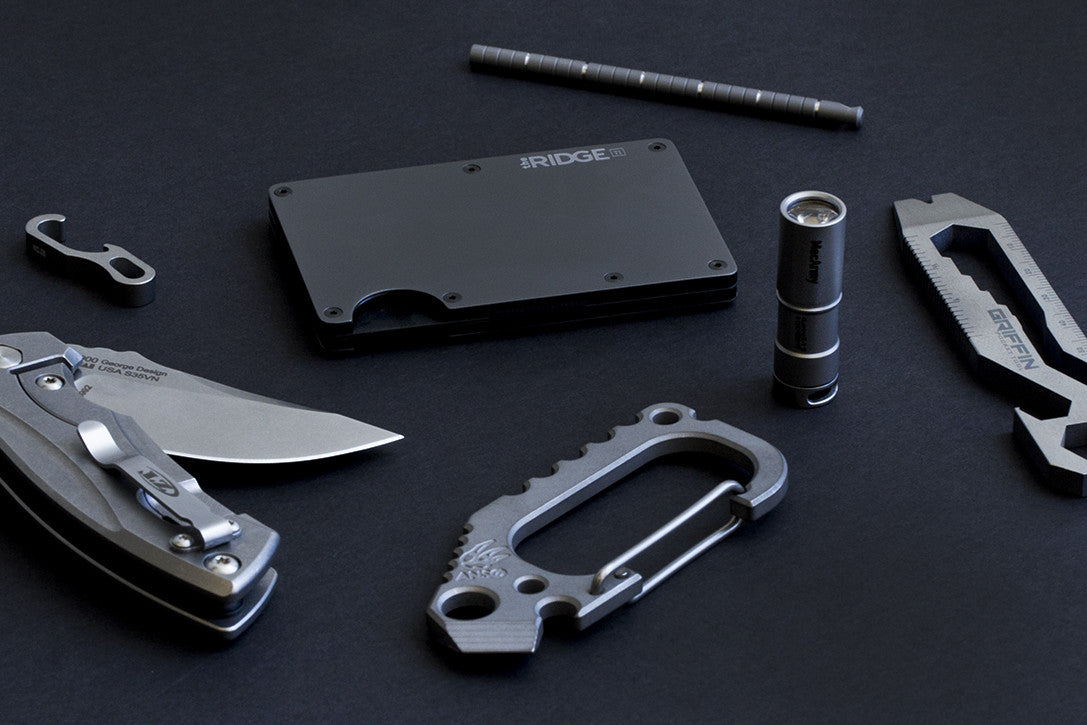 It isn't always easy figuring out the most appropriate everyday carry for you. Between the dozens of different item types, there are thousands of manufacturers and an exponential number of different combinations of appearance, to size, to overall sturdiness to consider. One such concern is the material out of which an object is made. And you should be at least a bit careful when diving into the deep end, because there are advantages and detriments to each. In this feature, we will focus on a material that surprisingly dates back as far as the 18th century: titanium.
Discovered by an English pastor named William Gregor - who originally named it gregorite - sometime between 1790 and 1791, titanium actually received its name from someone who stumbled upon it independently at least two years following. That man, german chemist M.H. Klaproth, dubbed it titanium after the legendary race of Greek myth, the Titans, for he believed it was natural strength incarnate. And its reputation for strength and durability has not faded since. Now, in the world of everyday carry, there are numerous types of titanium offerings, any of which could add a little extra fortitude to your load out.
Resolute Endurance
Titanium is used primarily in the aerospace industry - alloyed with elements such as aluminum and iron - for its incredible strength to weight ratio and the fact that it can withstand extreme temperatures without warping or breaking. This is also the primary reason you should consider it for your EDC gear. It can be as strong and durable as steel, but weigh as much as 45% less per volume. The benefit, however, does not come without cost, literally. Titanium generally costs more than steel - a result of limited availability - but the price has dropped significantly in recent years.
And the applications are fairly ubiquitous. Knives - in both handles and blade alloys - multi-tools, flashlights, pens, keychains, and more can all feature titanium in their construction, either as an element or sometimes in their entirety. Whether your EDC includes a flair for the tactical or more of an urban commuter vibe, titanium can be incorporated seamlessly.
Test of Time
Titanium's greatest strength, perhaps, is its distinct combination of corrosion-resistance and complete lack of oxidation. Whereas copper and brass both resist corrosion, they also both change appearance over time, turning to brown or green without consistent care. Steel does not tarnish, but it will absolutely rust. And that's actually worse. Titanium will do neither, except in extreme heat and conditions, as it naturally produces a passive oxide coating to protect itself under normal circumstances. So with regular use and minimal care, titanium products can stay as brilliant as the day you bought them. The following are some of our favorite titanium everyday carry items.
TEC Accessories Inchworm
People tend to underestimate the value of a measuring tool in daily life, especially if your daily life involves any amount of do-it-yourself or in-the-moment modifications, repairs, or quick patch jobs. But slipping a ruler or measuring tape into your back pocket is pretty impractical and cumbersome. The inchworm is a keychain-sized imperial format measuring device that's super durable, wont get in your way, and is scaled at up to 3 inch measurements.

Handgrey Bauhaus Mo.25
Based on the German Bauhaus design philosophy - which suggests that an object's form should emerge as a result of function-driven design - this tiny keychain bottle opener does not sacrifice usefulness for size. The Mo.25 is super light and unobtrusive, thanks to its size and grade 5 6Al-4V construction, and you'll be thankful to have it on your keys anytime a bottle needs opening.

TT Pocket Tools TT-Capper
One of the greatest commonalities in the EDC gear space is the drive to create multi-functional easily-carried items. And the TT-Capper pocket tool is a great example of that idea in motion. This tool can be attached to your keychain or used as a pocket/hat clip, pry bar, or flathead screwdriver. And at under half an inch in length and a less than 0.17 inch width, it's hardly an imposition to keep one on you.

Keysmart Key Holder
As a means to keep your keys organized, more compact, and jingle-free, there's nothing better than the Keysmart organizer. This uniquely shaped key chain alternative is durable and capable - it can fit up to 8 keys - and even has a removable loop accessory so that you can keep a key fob on it, as well. And if it ever gets dirty or you need to add or remove keys, taking it apart is very simple.

MecArmy Illuminex-1
The original member of the world's smallest line of USB rechargeable flashlights, the MecArmy Illuminex-1 is a keychain torch that's smaller than a tube of chapstick. Yet, it still packs an impressive maximum of 130 lumens of illumination. With two brightness modes, a potential runtime of six hours, a meter and a half range of impact resistance, and water resistance up to a depth of two meters, this is a truly versatile and tough little light.
Scout Leather Co. Mini Slim Hook
With design inspiration drawn from the classic Japanese brass fishhook, this pocket clip - which doubles as a bottle opener - is as unobtrusive as it is sturdy. And since it's manufactured in the USA, you can trust that a great amount of care went into making this high-quality keychain.

MecArmy Tritium Glow Bar
This incredible little keychain accessory has a super durable TC4 titanium alloy shell that surrounds a core of tritium, an element that glows automatically for up to 25 years. Through triple polycarbonate viewing windows, this no-sun-needed glow bar will auto-illuminate whenever there is a lack of light and make your keys all the more easy to find, whether they're in your pocket, dropped under a desk, or in a deep backpack pouch. It's even waterproof to 100 meters, impact resistant to 2 meters, and it is dent and scratch resistant.

Griffin Pocket Tool XL
If your normal everyday tasks require the use of a more beefy multi-tool, you can't go wrong with the Griffin XL. While this tool is still small enough to fit into your pocket - or clip onto your belt loops, as is intended - it also packs an impressive 15 different tools into its design. From drivers, to rulers, to a pry bar and bottle opener, this tool packs in the features And it comes in both metric and imperial, so you can get all the measurements in the designation of your home country - or whatever your preference is.

Quiet Carry Mini Q
Whether you're looking to maximize your carry options without weighing yourself down or you are searching for a more discreet way to carry a blade with you, the Quiet Carry Mini Q has got you covered. This key organizer can fit all of your normal keychain items - or it can be expanded to do so - and it also features a 2.35" stainless steel blade with a bottle opener notch to be used accordingly.

Handgrey H1 Carabiner
Created with pure functionality in mind, this keychain clip is made from super sturdy squared titanium and features a quick release, key-capturing design, so detaching it from your belt loop offers up far less risk of dropping your keys off of it. It is slim, streamlined, compact, and very light - and will probably last longer than anything you attach to it.

The Ridge Wallet + Cash Strap
This modern minimalist card and cash carrier - which can hold up to 12 cards, has an elastic band for cash carrying, and features RFID-blocking technology - is perhaps the ultimate wallet for the man who expects just a little bit more out of the things he carries. And each one comes with a torx driver so you can disassemble it for maintenance and/or cleaning.

Anso Knives Carabiner V.3
These carabiners - created and milled by famous Danish knife-maker and industrial designer, Jens Anso - are a little bit different from your traditional belt-loop mountable keychain. Besides the bead-blasted and anodized finish, they are also multifunctional, including the potential to be uses as a bottle opener, pry bar, and screwdriver. Really, they're more multi-tool than keychain.

Reate Knives Hills Flipper
A cleanly-styled pocket folder, the Hills by Reate Knives is one of the toughest flippers on the market. And the stonewashed finish makes it look the part, too. With a ball-bearing system, the 3.5" blade deploys as smooth as butter and will stay deployed securely thanks to this knife's sturdy frame lock. All together, the Hills is an extremely impressive pocket knife.

Zero Tolerance + Les George 0900
Don't let this knife's small stature fool you; there's a pretty incredible amount of toughness built-into this package. Designed with the help of renowned knife maker Les George, this pocket flipper by Zero Tolerance is comprised of some of the highest quality materials and tech on the market - including a frame lock with a hardened lock bar, a reversible clip, and a KVT ball-bearing deployment system.

James Brand The Chapter
Created out of necessity and love when the founders of the James Brand realized that they were having a hard time finding their perfect pocket knife, this super sleek knife was designed to be a marrying of both form and function. And with its looks as good as they are, you can bet the materials out of which it is constructed are high quality. And this knife is semi-stainless and corrosion resistant, for a long-lasting piece of EDC gear.
© Photography by Gallantry