The Ultimate Everyday Carry Gift Guide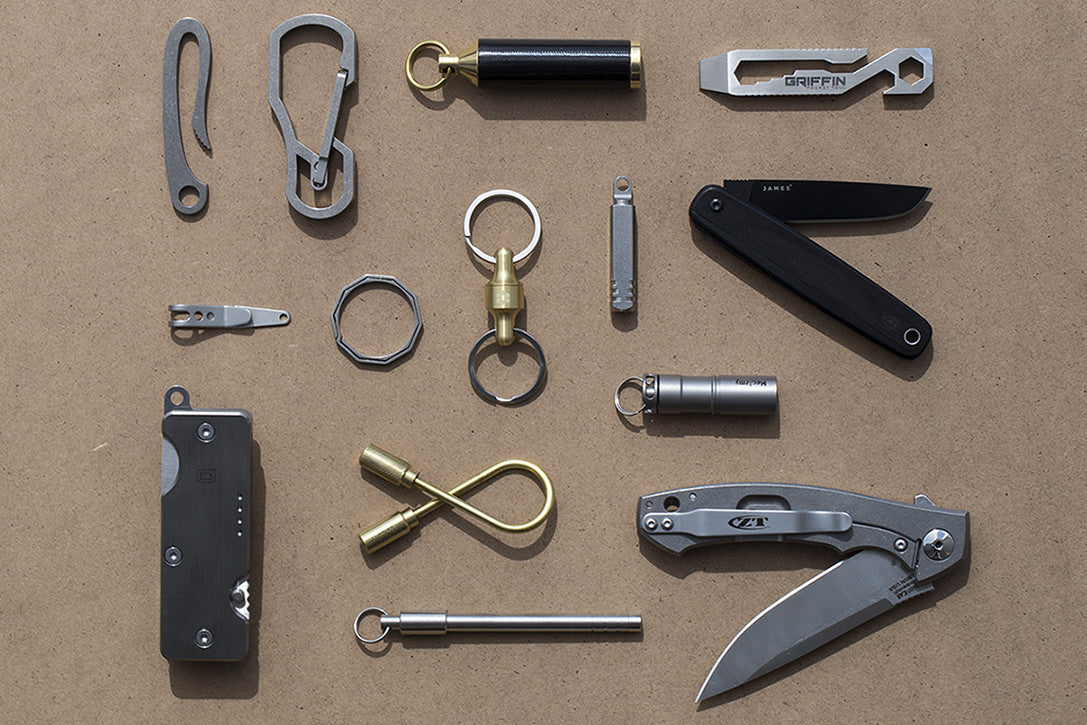 While the people that make everyday carry gear always strive for durable and long lasting products, enthusiasts know that even the most rugged gear has an expiration date. It's not that their stuff isn't well built, it's just that we like to use it until we break it. And, if it served us well, we're likely to pay for it again.
But it's the holiday season, so the spirit of giving is in the air. And, if you're here, chances are you've got someone on your list that likes high quality everyday carry gear. Maybe they need an upgrade. Perhaps there's an item of which they are not presently in possession. It could be that you're just fresh out of ideas. In any case, we've gone ahead and done the leg work, putting together a collection of the best gear we have to offer in the following list. Happy hunting.

Word. Pocket Notebook
Whether you know a burgeoning author, a craftsman that needs to keep track of measurements, or just someone who can be a bit forgetful, a pocket notebook is a stellar low-cost gift. And these ones from Word. Notebooks are some of the best. These 48 page books come in a three pack, feature the brand's handy bullet point system, and are small enough to carry around everywhere.

Handgrey Knox Keyring
It might not seem like a flashy gift, but this keyring from Handgrey is sure to put a smile on the face of anyone who appreciates well-designed gear. Constructed from 6AL4V titanium, it's sure to last a lifetime and the unique lateral split design makes the addition and removal of keys far more finger-friendly. Trust us when we tell you that the Knox far outshines its standard counterparts.

Crazy Horse Craft Leather Key Holder
A superb organizational tool, this key organizer is an excellent gift for anyone looking to reduce the jingling of their keys. Made from a single piece of the brand's proprietary leather, this taco-style organizer features a snap button closure, can fit up to 6 keys, and is handmade in Lithuania from all-natural materials.

Gearward Keychain Duct Tape
Duct tape is lauded as one of the most useful inventions humanity has ever had the fortune to know. But carrying around a roll of it isn't exactly reasonable or convenient. Instead, pick up one of these keychain additions and you can have up to 18" of Gorilla Tape on you at all times. And, since it's only 2.5" in length, it'll hardly be in the way at all.

Nomad Lightning Key
For anyone who knows the troubles of a quickly drained cell phone battery, the Nomad Key is a boon. This keychain charging device is much smaller and more convenient than your average cable, features scratch resistant connectors, and is flexible enough that you can wrench it into whatever angle you need. And it only takes up about as much space as a key.

PicoPen
If you're looking to ditch the pen floating in your pockets, the Pico Pen may be just the ticket. Each tiny pen features a ring for easy keychain attachment, and boasts ultra durable stainless steel construction. And, for added convenience, there's a rare-Earth neodymium magnet in the cap to ensure your pen always stays attached.

The Tin Mill Key Safe
While a wallet is still probably your best bet for keeping cash, it's not a bad idea to have a contingency plan. And this little keychain attachment is definitely a solid option. Made from 304 stainless steel, this 2.25" container fits a couple bills, pills, or similar small items for whenever you don't have access to your normal gear. And it's waterproof so you don't have to worry about the contents getting wet.

Prometheus Lights Kappa Quick Release
Having small pieces of gear on your keychain can be pretty handy, but it can be frustrating to remove them from your keyring if you don't want to bring the keys along for the job. The Kappa Quick Release circumvents that problem by allowing the user to remove a secondary keyring with just a tug. And it's secure enough that your gear won't come detached unless you intend it to.

Defy Keychain
As an alternative to a standard keyring or even your average metal carabiner, this device is a handsome and reliable means by which to keep your keys securely on your person, without monopolizing any pocket real estate. Made from Horween leather and military grade hardware, Defy's keychain can take plenty of abuse and still stay functional.

Craighill Closed Helix Keyring
If you know someone that struggles with the inconvenience of a normal keyring and you'd like to get them something that's both functional and unique, you'd do worse than getting them Craighill's Closed Helix Keyring. This stand-out brass device features screw-on end caps - so nothing will accidentally come off - and it has the added benefit of American made quality.

Griffin Pocket Tool
A pocket-sized Leatherman can be a great tool to carry around, but eventually some of the moving parts will fail. And that's a hard-to-manage weakness. Since it's made from a single piece of material, the Griffin Pocket Tool doesn't suffer from the same drawbacks. Yet it still packs in over 11 different tool functionalities. As a contingency for a lack of a tool box, this stellar multitool excels.

Scout Leather Co. Pineapple Lanyard Bead
Lanyard beads are a great way to individualize your EDC gear, but they're more than just an aesthetic addition. They can also serve as a means by which to pull your tools from your pocket. These ones from Scout Leather Co. feature a unique knurled exterior, are made from either solid copper or brass, and they can fit up to two strands of 550 paracord through their holes.

Scout Leather Co. Mini Valet Tray
It's nice to have a place to store your gear when it isn't in your pocket. And that's exactly what this valet tray is perfect for. Made from high quality Chromexcel horse leather from Horween, this 4 x 4 inch depository won't take up much counter or desk space, is a beautiful addition to any space, and will keep any items safe and sound until they're needed again.
Pixel Flashlight
We understand that in a world full of "flashlight" equipped smartphones, it's hard for many to sacrifice valuable pocket space for a full-fledged, dedicated flashlight. For those people, we present the Pixel. Measuring in at under 2 inches in size while boasting water resistant stainless steel construction and 25 lumens, this mighty little light won't clutter up your keychain.

Machine Era Original Brass Pen
Everyone should carry around a pen. They're useful for more than just writing and they're a lot more convenient than having to ask for one. This solid brass offering from Machine Era is well designed, will last for years to come - and will age beautifully in doing so - and has a secure screw-on cap. That means you'll never have to worry about ink leaking onto anything.

Keysmart Titanium Edition
Save yourself or a friend/family member the frustration of jingling unwieldy keys and get them this stellar keyring alternative. With the capacity to carry 8 keys, an optional removable loop for key fobs, and a construction of medical grade titanium, each of these tough pocket-sized organizers are hand made in Chicago.

Carbon Fiber Nuko Head Punch Ring
This non-lethal self defense tool is a perfect way to keep yourself or your gift recipient safe in emergencies. Weighing just an ounce, it's hardly a burden when added to a keychain, but it can make all the difference. Besides, it's a much better idea to be prepared for the worst than to hope for the best.

Cargo Works iPhone EDC Note Case
If you've got too much gear for your pockets, or you like the idea of having a catchall pouch for a specialized set of items, then you might want the Cargo Works iPhone EDC Note Case. This little pouch is hardly a burden, but can fit your phone, pen, a pocket notebook, credit cards, and more. 

Machine Era Ti5 Slim Wallet
Ideal for anyone that carries their cash and cards in a front pocket, the Ti5 (which is named for the titanium out of which it's constructed) is one of the best designed minimalist wallets ever made. It also features RFID protection and the thumb hole also doubles as a bottle opener. paired with the fact that it can carry up to 7 cards and cash, this might be the last wallet you ever need.

MecArmy Illuminex-1
For anybody that hasn't already gotten onboard with carrying a flashlight, the Illuminex-1 is perfect. The tiny design makes it ideal for stashing on a keychain, it still packs a whopping 130 lumen output, and it's the world's smallest USB rechargeable flashlight - so the user never has to worry about having to go buy batteries inconveniently.
Scout Hook Mini Slim Keychain Botte Opener
Bottle openers are a dime a dozen, but few are impressive as Scout Leather's. Inspired by the Japanese fish hook, this beauty boasts solid titanium construction, and is built right here in the good ole US of A. Each one is hand finished, and outfitted with a convenient keyring hole for easy transport.

MecArmy TR25 Tritium Glow Bar
This little keychain mountable device is as cool as it is useful. The tritium core will glow without the need to "charge" for up to 25 years. It can be viewed through any of the 3 polycarbonate windows. And the exterior is made from waterproof and corrosion resistant titanium. It also helps you find anything to which it is attached in a dark bag or under a desk.

Quiet Carry Mini Q
If you know any gear fanatics who want to consolidate some of their carry, pick them up a Quiet Carry Mini Q. This titanium device with replace their obnoxious old jingly keyring, but it also features a little 2.35" drop-point 420HC stainless steel blade. It's the perfect combination of knife utility and key organization. And it's still pocket sized for easy carry.

Handgrey H3 Carabiner
Carabiners are stellar keyring alternatives. They allow you to free up pocket space and are plenty secure (if you have a decent one). But there are some that stand out as much better than others. The H3 from Handgrey is one such carabiner. The industrial design of the H3 isn't just a look - this titanium carabiner is tough enough to take whatever punishment you can dish out. It also features a design that separates your keys from the clip, so they won't come off by accident. 

Maxx & Unicorn Valet Tray
Dumping all your pocketable gear on a desk or counter top can be quite an eyesore. It's also disorganized and puts you at risk of losing anything that might roll away. Circumvent those issues with this handsome tray from Maxx & Unicorn. Made from a combination of cherrywood and maple, this sustainably harvested wood receptacle has enough room for all your pocket gear and even has a space for your phone - with a notch for a charging cable, to boot.

Bellroy Note Sleeve
Because it carries around some of our most valuable items (cash, cards, mementos, etc.) having a good wallet is basically rule number 1 of carry. And you can't do better than Bellroy's offerings. Their note sleeve is crafted from full-grain vegetable-tanned leather, has an 11 card capacity with 3 quick-access slots, and has a currency pouch for bills and paper items. And it is built with the utmost care and attention to detail.

The Ridge Carbon Fiber Wallet + Money Clip
If you know anyone that loathes traditional billfold designs, but they still need something in which to carry their cards and cash, get them this modern wallet from The Ridge. Weighing just 1.6 ounces, this wallet is perfect for front pocket carry, features RFID protection, and even comes with a T5 Torx driver so that you can easily perform maintenance. And your cash can be safely stowed in the attached money clip.

Form Function Form Timex Chronograph
While you could get by using the clock on your phone, a wristwatch is a much more convenient and classy way to keep track of the passing hours. It's also a mark of a prepared man, as a phone might die in the course of a day - whereas a watch probably won't. This handsome timepiece is affixed to a Horween leather strap with a silver button stud, is a fully functioning chronograph, and has a cobalt blue dial. 
James Brand The County Knife
The Portland-based crew at James Brand hit a home run with their beloved County Knife. Now the same old school inspired pocket blade is back in black. Outfitted with a 2.5" Sandvik steel straight blade paired with a combo ebony wood and stainless steel handle, this slip joint beauty could be the ultimate gentleman's folder.
Zero Tolerance ZT 0450 Sinkevich
When it comes to EDC knives, Zero Tolerance is among the greatest in the game. Teaming up with famed knife designer Dmitry Sinkevich, the 0454 could be the best bang for your buck. Each knife is outfitted with a titanium handle and frame lock working in conjunction with a KVT ball bearing deployment system to ensure ultra smooth deployment. And the S35VN steel blade is the perfect finishing touch.