Pocket Cache: The 18 Best Men's Wallets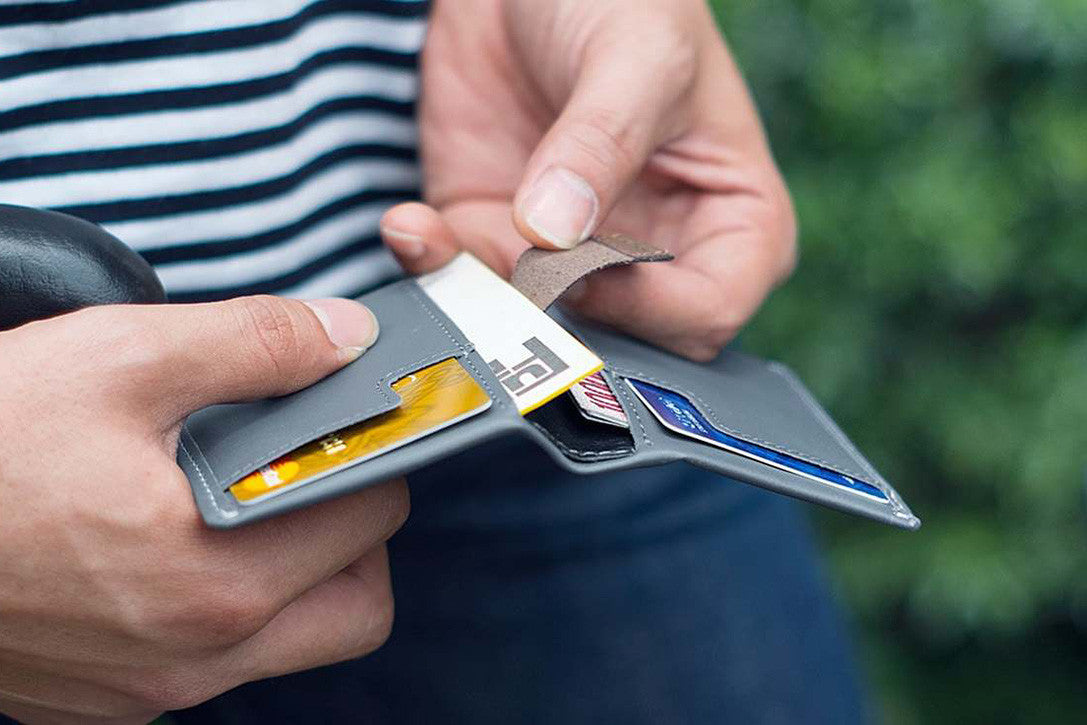 Dating back to the introduction of paper currency in the 1600s, wallets are still one of the most important items in anybody's everyday carry arsenal to this day. And that's because they keep our dough safe. And while we'd like to tell you that money isn't everything, we know better than to think we could survive completely off the land like old-timey settlers or frontiersmen.
When looking for a good wallet, the trick is identifying the cross-section between your capacity necessities and your material, format, and size preferences. For example, you wouldn't want a full-sized bifold if you're only carrying 3 cards around in your front pocket. Conversely, a minimalist wallet is no good for a jet-setting traveler with dozens of plane, train, and/or bus tickets. Thankfully, Gallantry has a comprehensive array of options. So, whether you need a simple metal card holder or a tanned leather notebook carrier, we've got you covered. The following 18 wallets are the best you can find on our site - or, really, anywhere.

JBird Co. Taco Card Wallet
Stylish and sleek yet unobtrusive, this minimalist wallet from JBird Co. is a superb no-frills option. Made in America from full-grain vegetable-tanned leather, this simple billfold can hold everything you need without wrenching your spine in the process. Metal rivets secure its elastic band to its waxed-finished water-resistant body. And it has a lifetime guarantee. If you're considering upgrading and slimming down, the Taco Card Wallet is a solid inexpensive offering.

Flowfold Vanguard Limited Bifold Wallet
One of the bigger problems with standard bifold wallets is their size and weight. And that's what makes Flowfold's Vanguard so impressive: it manages to do away with those issues almost entirely. Weighing less than an ounce and featuring a profile as thin as two credit cards, this American made wallet is nonetheless fully-functional. In fact, it fits up to 14 cards and has a currency pocket. Yet it doesn't skimp on durability. It's made from super tough, water resistant, nylon webbed X-Pac material. If you need a full-capacity wallet that won't weigh you down, this is it.

Crazy Horse Craft Wool Felt Wallet
If you're looking for a minimalist wallet that's a little off the beaten path without sacrificing durability and functionality, the Crazy Horse Craft Wool Felt Wallet is worth considering. This currency pouch is handmade from a combination of 100% Lithuanian wool felt and the brand's proprietary Crazy Horse leather. And it features a single, simple snap button fastener for ease of use and security. Best of all, this wallet will age and patina over time for a truly unique look.

Machine Era Ti5 Slim Wallet
For front-pocket carriers, there's little else out there as good as Machine Era's Ti5 Slim Wallet. Machined from aerospace-grade 6AL-4V titanium, this 7-card sleeve offers RFID protection. So, you don't have to worry about anyone stealing your info remotely. It's also fitted with a high quality elastic band to keep your cards and cash secure. And it has a thumb hole - for quick and easy access - that doubles as a bottle opener. Plus, this USA made wallet is corrosion resistant, so it wont rust.

Trove Wallet
The ultimate in minimalist design without sacrificing versatility, the Trove Wallet is an astonishingly cool little cash and card carrier. It's handmade in England from a combination of Italian high quality elastic and vegetable tanned bonded leather. Up to 10 cards fit within its 3-pocket design. And it will conform in size and shape to however many items you put inside it. Plus, it's reversible for alternative styling and storage options.

TGT Deluxe Wallet
Tiptoeing the line between classic style and innovative design, Tight Wallets makes some of the best slimline card and cash carriers out there. And their Deluxe Wallet is proof positive. This unobtrusive carrier is made from premium Italian leather, robust elastic, and durable canvas. Without dominating your pocket space, it'll store everything you need daily. That means all your cards, a wad of cash, and even a small key can fit. Plus, all of TGT's wallets are handmade in the USA.

DPTR Clamshell Wallet
Horween is one of the oldest tanneries in the United States. And it is certainly one of the most highly respected, too. So, when we tell you that DPTR teamed up with them to create their Clamshell Wallet, we want you to know what that means. Although it is simple in its design, no quality has been compromised. With a Horween leather exterior and a pigskin interior, this wallet will remain handsome and tough for years to come. And the braided elastic band will keep your items safe and secure. When it comes to bare-bones minimalism, this wallet ranks at the top.

Bison Made No. 2 Wallet
If you like your minimalist carry as rugged as it is reliable, then Bison Made's No. 2 Wallet might be perfect for you. In fact, Bison Made is so confident in this wallet's quality that they have included a lifetime warranty on the stitching. If it busts, they'll fix it. Chances are, however, it'll never need to be repaired. Made from Chromexcel animal hide tanned by Horween Leather Company, this 100% leather wallet has no linings, rubber, or glue. Just good ol' fashioned American hand stitching. And it'll fit up to 8 cards between its two pockets. Pick this one up and you'll likely never have to purchase another wallet again.

The Ridge Aluminum Wallet + Money Clip
For anyone whose tastes lie on the modern side of the spectrum, Ridge wallets are a gift from the technological gods. Simple without being simplistic, this aluminum wallet has an up to 12 card capacity and won't stretch out. It also offers RFID blocking. And it features an attached steel spring money clip for your cash. But, one of the best parts of this offering is that each comes with a T5 Torx driver so you can take your wallet apart for maintenance or to replace the hardware with the included extras. There's a lot of benefits for something that weighs just 2 ounces.

Mr. Lentz Minimal Leather Wallet
In a stroke of genius, Mr. Lentz may have created the thinnest bifold leather wallet ever made. This full-grain vegetable tanned leather wallet isn't bogged down by unnecessary stitching or glue. Instead, it's secured with brass rivets. And because of the clever single piece design, you don't have to worry about seams coming undone. This American handmade wallet also fits up to 6 cards, has a currency slot, and comes with a 100-year warranty against defects. And it comes with a tin of leather conditioner, so you can care for the natural material. This heirloom-quality wallet is, simply put, one of the best anywhere.

American Bench Craft Hammer Riveted Wallet
As the name might suggest, each of these single piece wallets is folded and secured with brass metal rivets using traditional methods and simple hand tools. And - since they're crafted from a single piece of die cut, vegetable tanned, full-grain steer hide leather - they're some of the toughest pieces ever made. Which is something American Bench Craft is extremely proud of - as their goal is to create quality, innovative, craftsman-level products right here in the USA. Did we mention that this wallet has an up to 18 card capacity? Well, it does. If you need a hard use, high-volume wallet, get yourself one of these.

Bellroy Slim Sleeve Wallet
Ask anyone that's had the pleasure of owning a Bellroy wallet and they'll agree, this brand knows their craft. And their expertise has led them to create the Slim Sleeve, a superb and super thin bifold wallet. Using their "Nude Approach," Bellroy has only used the most necessary materials in the construction of the Slim Sleeve. That means there are no extraneous liners and as little waste as possible. The result is the slimmest profile of any of Bellroy's bi-folds. That being said, it still fits up to 12 cards, has a folded currency pouch, and has 2 quick-access slots. Once again, this brand has set the standard for quality and thoughtful design.

Form Function Form Architect's Wallet
Chock full of useful tools for the creative on-the-go, the Architect's wallet is a stellar piece of EDC gear for anyone trying to maximize their carry. Not only does this Chromexcel Horween leather wallet have a 10 card capacity, but it's also loaded with a Fisher Space Pen and 2 Moleskine Volant Xsmall notepads. That way, if you come up with any big ideas, but you're nowhere near a computer, you can still scribble them down. Saddle stitching and a matte black YKK metal rivet secure this 2-pouch minimalist wallet. Don't let the name fool you. You don't have to design buildings to carry around this stunning piece.

Bellroy Hide & Seek Wallet
If you like the idea of a traditional bi-fold wallet, but you also want something with a little more privacy and security, the Hide & Seek is perfect. 4 quick-access slots and a currency pouch allow for normal day-to-day carry, but there's also a hidden currency and coin pouch to keep anything you want out of eyeshot hidden. Not only will this wallet allow you to keep your carry organized, but it will keep everything secure, too. And because it's made from full-grain vegetable-tanned leather, it's also extremely good looking and durable.

Form Function Form Field Notes Wallet
Single-piece wallets are an excellent way to maximize strength and minimize waste. And this one from Form Function Form is one of the most clever and well-designed. Made from a single piece of Horween Horsefront leather, this superb wallet features three credit card slots, a catchall pocket for your cash and bits of paper, is equipped with a Field Notes brand pocket notebook, and even comes with and has a sleeve for a Fisher Space Pen. On top of that, this wallet is hand-stitched right here in the USA. So, if you need a capacious card and cash carrier, but you also like the idea of having a safe and secure place to put your EDC pen and notebook, loading it all together in this wallet is your best bet.

The Ridge Carbon Fiber Wallet + Money Clip
Simply put, The Ridge makes some of the best modern wallets available. And this may very well be their best. Which is saying quite a lot. For starters, this wallet offers RFID protection. It also has an up to 12 card capacity and an attached spring steel money clip. If ever you need to dismantle it for maintenance or repair, it also comes with a T5 Torx driver and replacement screws and elastic. Best of all, however, the super durable carbon fiber is also super light. That means this wallet weighs just 1.6 ounces. It doesn't get much better than that.

Bellroy Travel Wallet
If you're the type of person who frequently takes to the skies, you know that the needs for travel are vastly different from your average daily carry. And, lucky for you, Bellroy knows that, too. That's why they made this, their Travel Wallet. Not only can this vegetable-tanned leather wallet fit up to 10 cards, but it also has 4 quick-access slots, a compartment for your tickets and passport, and even has a hideaway micro pen in its spine. So whether you are going through a TSA checkpoint or you need to sign a receipt at the airport bar, you can rest assured that all your necessary stuff is organized and safe. And you can count on the travel wallet for years to come.

Bison Made No. 6 Wallet
Bison Made's No. 6 Wallet is one of the best leather wallets in the world. Period. This gorgeous Chromexcel Horween leather bifold features a slim interlocking pocket design that allows it to take up less pocket real estate without compromising toughness or capacity. It also fits up to 12 cards in its numerous pouches. And it is made without rubber, glue, or unnecessary lining. Handmade right here in the USA, each of these 100% leather wallets comes with a lifetime warranty on the stitching. So you'll never have to worry about it failing you. Ever.