Ink Slinger: The 5 Best EDC Pens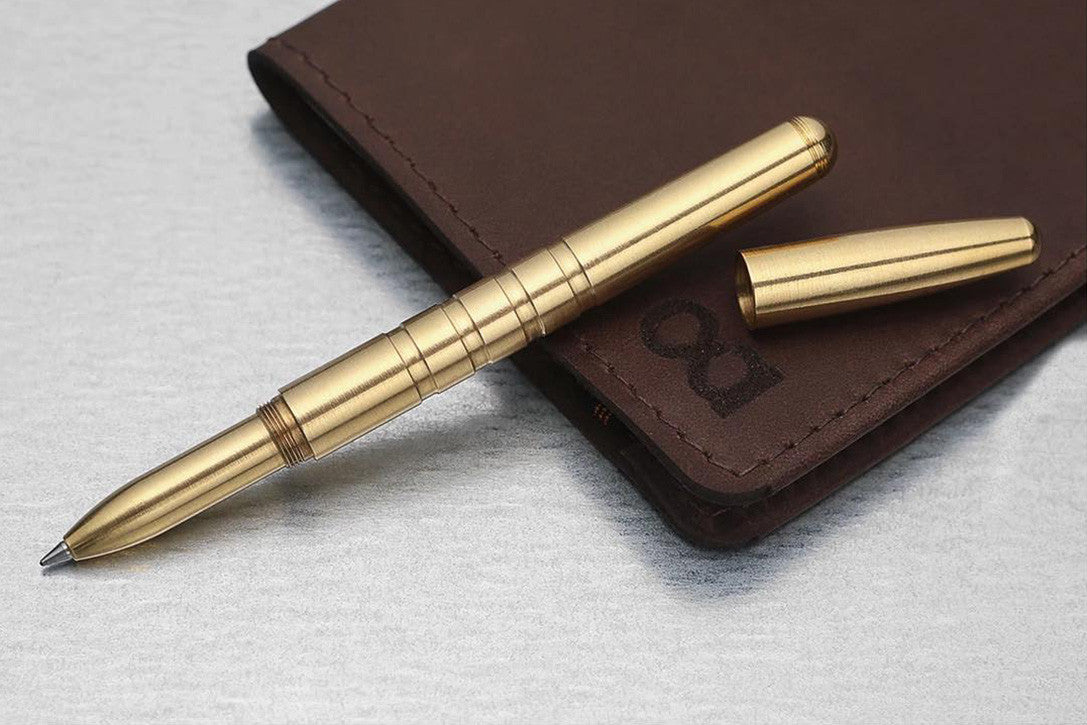 Including a pen as a part of your everyday carry can be a tremendous advantage. It marks you as a man who is practical, resourceful, sophisticated, and mature. And the benefits therein are far greater than any perceived drawbacks. Sure, you might not always need that pen. But, when you do, you'll be happy you have it. Especially if, in that occasion, you are saved time or hardship.
Whether you need to sign a check, scribble down a phone number, or draw up a bright idea as it strikes you, you'll be hard-pressed to get the task done without some kind of writing instrument. And it isn't just handy in those moments where you are pressed for time, either. Studies have shown that things physically written down are far more likely to be logged into your memory than something, say, punched into your smartphone.
But it isn't as simple as pocketing one of those plastic pens you "accidentally" stole from the bank. The pen you carry can say a lot about you. A disposable pen might make people think that you're cheap and, perhaps, a little thoughtless. A well-built EDC pen, contrarily, will impress all but the snootiest of critics. And there's a reason for that. Plastic pens are ugly and unreliable, whereas the best everyday carry writing utensils are durable, dependable, and handsome. Here, we've rounded up the five best EDC pens we have to offer.

TEC Accessories Picopen
Don't let the small stature of this keychain attachment fool you. The Picopen, though diminutive, is an incredibly handy tool to carry with you at all times. For starters, it's only 3.25 inches in length - making it the perfect answer for anyone trying to argue that they just don't have the space for a pen. It also weighs just 14.5 grams. That's less than an ounce, for those keeping score. It also features a rare-Earth neodymium magnet in the cap to ensure that the cap stays secure whenever it isn't in use. Best of all, this tiny stainless steel EDC pen is compatible with Fisher's pressurized cartridge refills - the ones that are waterproof and can write both underwater and in zero gravity.

Fisher Space Pen Bullet
Arguably the greatest EDC pen of all time, the Fisher Space Pen Bullet is certainly an incredibly versatile writing utensil. When closed it measures up at just 3.75 inches, but opened (and with the cap attached to the bottom of the pen) it becomes a fully-balanced 5.25" pen. It also comes standard with the brand's pressurized cartridge - famous for being functional underwater, upside down, or in zero gravity. These pens are also built and hand-tested here in the USA, so you can be sure that their quality is top notch. They also come in one of two finishes: solid brass or matte black finished brass.

Machine Era Original Brass Pen
This 4.6 inch writing instrument answers the long-running question of what to do with the cap while your pen is in use. By simply adding some threading to the base of the pen, they've added a very easy and secure method by which to attach the cap to it rather than let it sit or roll around precariously on your writing surface. This solid brass instrument, which comes equipped with a Pilot G2 cartridge, is also compatible with all standard Uni-ball refills. And it is machined entirely in the brand's Richmond, Virginia headquarters - making it perfect for anyone who values American craftsmanship. 

Karas Kustoms Bolt Pen
If overall quality is more important to you than saving the most pocket real estate, you might find yourself leaning more toward something like the Karas Kustoms Bolt Pen. This writing utensil might not be as "refined" as your favorite Mont Blanc, but it is definitely built much tougher - and likely more capable, too. Constructed in the USA, this all-metal pen - which is machined from 6061-T6 aluminum - features a unique bolt-action deployment in conjunction with a standard button-clicker. It also works with all Parker ballpoint compatible refills. The clip and hardware are made of stainless steel and the whole package measures up at 1.6 ounces and 5.625 inches in length.

Karas Kustoms Retrakt Pen
Simultaneously one of the most versatile and toughest pens on the market, the Retrakt stands apart from your typical clicker-style ballpoints. Not only does it feature an extremely durable all-metal body, but the clicker is also made entirely from metal. In fact, it was designed to be one of the toughest pens ever made and will almost certainly outlast any of its inferior plastic counterparts. This one features a tellurium copper metal body that will age beautifully over time. It's also compatible with both Parker ballpoint compatible refills, as well as the popular Pilot G2. And, like all of the brand's pens, this one is made right here in the USA.